Becoming a new student is a three step process: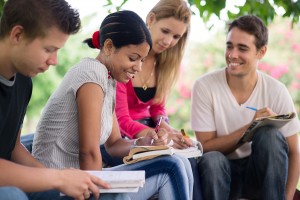 The First step is Intake.  This is where students fill out enrollment forms and take the initial assessment, called the locator.  Intake is offered twice a week at the main campus at 30 West 8th street.  Intake takes approximately two hours. Call 859-292-3056 to make an appointment.
The second step is TABE testing. TABE stands for, Test of Adult Basic Education, this placement will let students know if they are ready for the GED and/or college or if they need class work.  Classes are offered both online and in person.  There is no charge for classes.
The third step is orientation.  Orientation is where students get all the information they need to know about starting the program.  Students are given their individual test results and work with an advisor on next steps to reaching their goal.  They will leave orientation with a class schedule and classes start the week following orientation.
Times: Students have a choice of either daytime or evening for intake, testing, and orientation.
Call 859-292-3056 to make an appointment.
What to bring?
If you are 18 years old, you will need a copy of your withdraw papers from your last high school.
(this is not required if you are 19 or over.)
Feel free to bring a snack or lunch with you since orientation is a long day
When can you start?
CCSU 30 West 8th Street Newport, KY Mondays at 5:30 pm
CCSU 30 West 8th Street Newport, KY Fridays at 9:00 am
CCSU 30 West 8th Street Newport, KY 2nd Saturday of the Month at 9:00am
Alexandria Branch Public Library 8333 Alexandria Pike, Alexandria, KY 41001 Tuesdays 1:00pm
Cold Spring Branch Public Library 3920 Alexandria Pike, Cold Spring, KY 4107 Thursdays 5:30pm
Or by appointment (call or email to schedule)